Posts for: March, 2018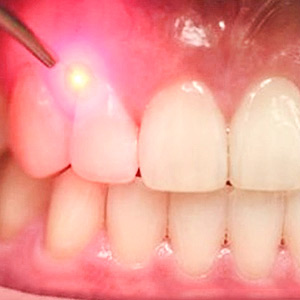 Although techniques for treating periodontal (gum) disease can vary, they all boil down to one objective: remove the bacterial plaque and calculus (hardened plaque deposits) that cause the infection. The initial treatment usually involves two techniques known as scaling and root planing.
Scaling uses hand instruments, ultrasonic equipment or a combination of both to manually remove plaque and calculus from the tooth and root surfaces. Root planing takes it a step further by minutely "shaving" infected material from the root surfaces. While more invasive techniques (including surgery) may be needed, scaling and root planing are the first line of treatment for any recent diagnosis of gum disease.
In recent years, an adaptation to these treatments has emerged using the Nd: YAG laser. The laser uses a particular crystal that's adaptable for many different types of surgery. In the case of gum disease, it's been found as effective as traditional methods for removing the infected linings of periodontal pockets. Voids created by detaching gum tissues as bone loss occurs, enlarge the small natural gap between the teeth and gums, which fill with pus and other infected matter. Removing the diseased lining from these pockets reduces bacteria below the gum line and speeds healing.
Periodontal laser therapy may have one advantage over traditional treatments: less tissue damage and swelling, and hence reduced post-treatment discomfort. While some research seems to confirm this, more controlled studies are needed to render a verdict on this claim.
Regardless of whether you undergo traditional scaling and root planing or a laser alternative, the aim is the same — to bring the disease under control by removing plaque and calculus and reestablishing good daily oral hygiene practices. Stopping gum disease as soon as possible will help ensure you'll have healthy teeth and gums for a long time.
If you would like more information on treatments for periodontal (gum) disease, please contact us or schedule an appointment for a consultation. You can also learn more about this topic by reading the Dear Doctor magazine article "Lasers versus Traditional Cleanings for Treating Gum Disease."
Dental work isn't performed in a vacuum — the state of your general health can have an impact on procedures and vice-versa. This is especially true if you're taking certain medications like blood thinners.
Blood thinners such as Warfarin or Clopidogrel are used for a number of medical conditions as an anti-coagulant (inhibiting blood from clotting). They're commonly part of a stroke or heart attack prevention strategy in patients with cardiovascular disease, or those with tendencies for thrombosis (blood clot formation within blood vessels) or pulmonary embolisms (blood clots within the lungs). They're also used with patients with artificial heart valves or on a temporary basis with patients who've recently undergone knee replacement or similar surgical procedures.
In most cases, dental work won't be affected by your use of a blood thinner. An issue might arise, however, if an invasive procedure has the potential to cause bleeding, like a tooth extraction or gum surgery. Because the blood doesn't clot normally it may be difficult to stop the bleeding during such procedures.
To avoid undue complications, it's always best to let your dentist or oral surgeon know what medications you're taking, especially blood thinners (this includes low-dose aspirin, a common over-the-counter drug that's often prescribed as a mild blood thinner). Depending on the procedure and your dosage, they may consult with your prescribing doctor to see if temporarily stopping the medication or reducing the dosage is an acceptable precautionary measure for your dental treatment. Your dentist may also take precautions during the procedure to help reduce bleeding such as using haemostatic agents around the wound site to help stabilize blood clotting, while carefully suturing the wound to avoid disrupting smaller blood vessels (capillaries) that easily bleed.
If your dosage has been temporarily stopped or reduced, you'll usually be able to resume blood thinners immediately after the dental procedure. Working together, your dentist and doctor will help ensure that your health won't be at risk and your dental procedure will occur without undue complications.
If you would like more information on dental work precautions with medications, please contact us or schedule an appointment for a consultation. You can also learn more about this topic by reading the Dear Doctor magazine article "Oral Surgery & Blood Thinners."